Continuing Education, or CE, is a vital part of our mission to improve the health of rural and underserved communities in northern Arizona by building, training, and strengthening the health workforce. Here we spotlight Mary Pasternacki, FNP-BC, a leader in creating education and networking opportunities for healthcare providers in the Flagstaff area.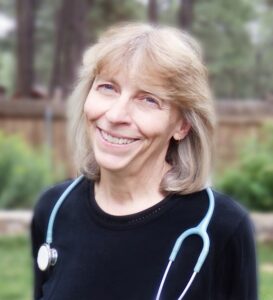 Tell us about yourself.
Since 2016 I have owned my own primary care provider business in Flagstaff: Mary Pasternacki Family Healthcare, PLLC. I am also the current president of Northern Arizona Provider Group whose membership includes about 80 healthcare providers from the region, primarily nurse practitioners. We provide monthly CEU opportunities featuring local experts and networking with local colleagues. 
I am married to Stu, and we live on a 26 acre "ranchette" in Parks. We are enthralled with a totally amazing border collie named Katch. I love dog training, and Katch has the titles to prove it! She has several American Kennel Club titles including Trick Dog, Agility, Tracking, and Herding (my husband does the herding training). 
Why did you choose a career as a nurse?
I had set my sights on becoming a nurse for as long as I can remember. My mother was a nurse, and she was my lifelong inspiration. She also inspired my siblings, as my two older sisters are registered nurses and my older brother is a physician's assistant. You can just imagine what conversations were like around our dinner table! I was able to identify the anatomical location of the "Circle of Willis" before leaving grade school. 
Tell us a little about your journey up until now.
I grew up in a small, rural community in eastern New Mexico. At that time my mother was a school nurse. She encouraged me to get a BSN nursing degree, so I attended West Texas State University (before it was an Aggie school!). The State of Texas foresaw the upcoming nursing shortage and supplemented nursing student's education. Each semester I paid $50 for 15+ credit hours. Needless to say, I graduated in 1980 without any financial debt.
I moved practically every year searching out adventure in another nursing job or location that sounded like fun. I loved pediatrics and worked in pediatric and neonatal intensive care units. I found the drama of the emergency department intriguing and pursued that for several years. When I found Guardian Air Transport in Flagstaff, I enjoyed marvelous adventures transporting patients by air all over the amazingly beautiful Southwest. Flight nursing was a dream job! 
But of course, I got the bug to mix things up again! The family nurse practitioner program started at Norther Arizona University and I joined several friends in the first Master's level rural family nurse practitioner program graduating class of 1997. After graduation, I continued to work for the physician who was my preceptor as a student. My running joke is that I say I completed a 14-year residency training with him! That physician read and critiqued every chart note and every patient exam I performed for 14 years. 
It was an incredible experience that gave me the knowledge and confidence to envision my own solo primary care provider office, which came to fruition in 2016. I have been fortunate to be able to create my own world as a successful solo medical provider that I built from the ground up. I currently employ one medical assistant/receptionist. I love it, and my boss never denies my vacation requests!
Tell us more about the continuing education work you've done with the Colorado Plateau Center for Health Professions.
I am the current president of Northern Arizona Provider Group, which was started in the 1990's by Karen Holder, NP, as a way of educating and networking with other providers in northern Arizona. Northern Arizona Provider Group has provided consistent monthly continuing education units, or CEUs, for almost 30 years. 
About 10 years ago Karen aligned us with Colorado Plateau, formerly known as NAHEC, who has been underwriting our monthly programs since then. NAHEC's collaboration with Northern Arizona Provider Group allowed us to have independent, unbiased presentations instead of the previous sponsorship by the pharmaceutical industry. NAHEC has allowed us to keep annual dues nominal and provide about 15 free hours of valuable CEU to each member each year. NAHEC's sponsorship and collaboration with Norther Arizona Provider Group is a valuable gift to the membership.
What is something that most people don't know about healthcare in a rural area?
Healthcare in a rural community is most rewarding. It is said there are only seven degrees of separation between all humans. In our rural community in northern Arizona, we laugh and say there are really only three degrees of separation. It means that no matter who you interact with, there is a ripple effect through the entire community. In a small community, we can often find those who want and need our help. They will, in turn, return the care in unexpected ways.
What interests you most about meeting the healthcare needs in rural communities by offering continuing education opportunities to health professionals?
Medicine is a fascinating science. It never stays the same, it is constantly growing and changing. It takes a lot of work to stay afloat on this sea of changes. And those changes are critical to being a good and current medical provider. There are constantly new medications, new labs, new scans and interpretations, new disease entities, and new treatments. It is enough to make your head spin and your feet slide out. 
I worked at a big teaching tertiary care hospital in Phoenix. I loved being on the cutting edge of changes in medical practice. I loved standing beside the medical residents and listening to the sage advice of the "seasoned" physicians and other experts. I learned so much there. It is harder to find those mentors and day-to-day educational opportunities in this smaller rural area. 
I was fortunate to find the education venue Northern Arizona Provider Group, where I could interact with my NP colleagues. It was there that I found a venue to learn from both the "older, more seasoned" and "younger, more current" colleagues in my community. As president of Norther Arizona Provider Group, I am privileged to be part of a team that helps to make that happen with other providers in rural Arizona. 
It is so important that we help each other to integrate the most current and best medical practice models. Besides, it is always more fun when you learn it with a friend and colleague. We are all trying to stay up on our best medical game, and it is most enjoyable when a colleague takes you along on the learning journey.
What advice do you have for those that are considering a path similar to yours?
Keep mixing things up in your healthcare career. Don't get in a rut and find yourself burned out and cranky. There are so many opportunities in healthcare. Step out of what you know and onto the edge of what you don't know, so that you will find yourself grinning with the wind beneath your wings as you fly.
— Mary Pasternacki, FNP-BC