Continuing Education, or CE, is a vital part of our mission to improve the health of rural and underserved communities in northern Arizona by building, training, and strengthening the health workforce. Here we spotlight Amy C. Negovan, PNP, who helps school nurses by offering continuing education on topics and disease states that they see every day.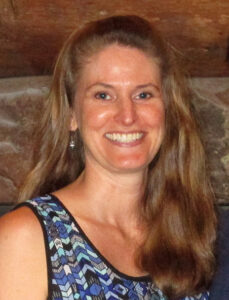 Tells us a little about yourself.
My name is Amy Negovan, and I have been a registered nurse for 25 years and a certified pediatric nurse practitioner for 19 years. I have worked for Dignity Health – Yavapai Regional Medical Center for the past 7 years and am currently the director of its school-based clinic program called Partners for Healthy Students which has been in existence for 22 years.  
I have been married for 26 years and have three children, ages 22, 16, and 10 years. I was born and raised in the Los Angeles area of California. My family and I moved to central Arizona in 2011 to live a quieter, rural life with our children. We live on a two-acre hobby farm where we raise dairy goats, chickens, and have a huge garden. When I'm not taking care of the animals or working in the garden, I enjoy learning to the play the piano, scrapbooking, and swimming.
At what age did you make the decision to pursue a career in healthcare, and why did you choose the healthcare role you are now in?
As a teen, I had a great role model who was pediatric nurse. I decided that when I went to college, I wanted to work with kids either as a nurse or teacher. I chose the nurse route and pursued a career in school-based health both as a school nurse and a nurse practitioner working in various school-based and mobile clinics.
Tell us a little about your career journey.
When I first became a nurse in the 90's, nursing positions were hard to find. Since I had worked in a hospital setting as an electrocardiogram (ECG) technician for 7 years, I was offered a job as a telemetry nurse and took it to get my inpatient experience which was a big thing at the time. A year later, I became a school nurse and had absolutely found my calling.
During my 14 years as a school nurse, I went back to school to get a master's of science degree in nursing along with my pediatric nurse practitioner certification. After I was finished with that, I had the best of both worlds as I worked part-time as a school nurse and part time as a pediatric nurse practitioner on a mobile clinic in Los Angeles that provided free health care to the uninsured through the local Catholic hospital.
After moving to Yavapai County, Arizona in 2011, I discovered that they, too, had a school-based and mobile clinic program that provided no-cost healthcare to the uninsured, and I was hired to work on their newly designed mobile clinic serving the rural areas of our hospital district in Yavapai County. 
In between all of this, I have also taught community health care courses to graduate and undergraduate nursing students for both University of Phoenix and Walden University. I currently serve on the board of the Arizona School-Based Health Alliance.
What interests you most about meeting the healthcare needs in rural communities by offering continuing education opportunities to health professionals?
Because there is no continuing education requirement for Arizona RN's to renew their license, I find that many nurses just don't become life-long learners. The school nurses in our area are the "partners" in Partners for Healthy Students, and I love offering them continuing education on topics and disease states that they see every day. 
As a former school nurse, I understand their struggles, challenges, and limitations as school nurses and being able to offer them continuing education in their workplace during their workday is so valuable to them. 
What is something that most people don't know about healthcare in a rural area?
In a rural area, there are less pediatric providers than in a big city. There are also no pediatric specialists (at least in my area) and specialty care has to be obtained in bigger cities. In a rural area, everything is spaced out and traveling to obtain health care can be a big barrier to accessing health care given the wear and tear on vehicles, cost of gas, and time lost from school (kids) and work (parents).
What advice do you have for those that are considering a path similar to yours?
A wise person once told me, "Whatever career path you take, make sure that you love it because it is easy to do what you love." I have found that so true! I love children and working with them every day brings me so much joy. It is also important to take time to care for oneself because it can be easy to get caught up in doing what you love. Taking time to recharge, renew, and refresh is so important!
— Amy C. Negovan, PNP